Accelerating Research
Collaboration on experiments, data analysis and access to a wider pool of talent and knowledge is dramatically accelerating research results. See these examples for how this is being achieved.
​

Big bang: 40,000 users in over 100 countries have been involved in the Large Hadron Collider (LHC) project, so far contributing the equivalent of 3,000 years on a single computer across research networks. The LHC is allowing science to dig deeper into the world we inhabit and to make discoveries about the origins of the Universe. Their research is also contributing directly to new technologies which have the potential to benefit us all.
​

Star gazing: When JIVE (Joint Institute for VLBI in Europe) first began in 1993, there was no way of transmitting the vast amounts of data generated by having multiple radio telescopes linked together to study the same region of sky. However, electronic VLBI enabled by high speed research and education networks has meant that data from each telescope (often in remote locations) can be correlated centrally in minutes, helping us to understand the world above us and the implications this has for us on Earth.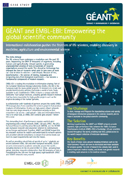 ​DNA data: The DNA sequencing of thousands of organisms has revolutionised the life sciences world, unleashing huge volumes of data which is doubling every few months. Access to this information allows vital analysis to be completed, cost-effectively, in minutes rather than years. The challenge that the European Bioinformatics Institute (EBI) has in terms of sharing the immense amount of data generated by itself and its hundreds of partners worldwide is being answered by research networks such as GÉANT and ORIENTplus.
For other examples of users relying on research networks managed by DANTE, see: