​DANTE's offices
DANTE is based in the beautiful city of Cambridge, recognised as one of the best places to work in the UK. Building on its world-renowned university, the city has developed over the last 20 years into a major technology centre, driven by a combination of local, national and international businesses. Cambridge is also well-connected, being less than an hour from London by train and within easy reach of Stansted Airport.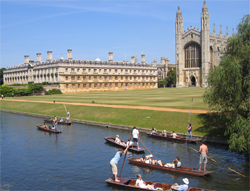 We have modern, spacious offices at City House, just a short walk from the main train station, and the company has secure on-site parking. A non-stop train service operates between London and Cambridge, and services also run to some of the larger towns in the region. Many of our staff cycle to work using the city's extensive network of cycle paths or use the new guided bus way that connects some of the county's beautiful villages to the city centre.
City House offers a free-of-charge gym, with fitness advisors available to offer advice on using the equipment and with fitness planning. Employees benefit from corporate membership of the neighbouring Cambridge University Botanic Garden, allowing staff to enter the garden for free during the week. The company is also a member of the local Arts Theatre, offering free or reduced-price performances for DANTE staff.