GÉANT
The pan-European research and education network that interconnects Europe's National Research and Education Networks (NRENs)
Together we connect over 50 million users at 10,000 institutions across Europe, supporting research in areas such as energy, the environment, space and medicine.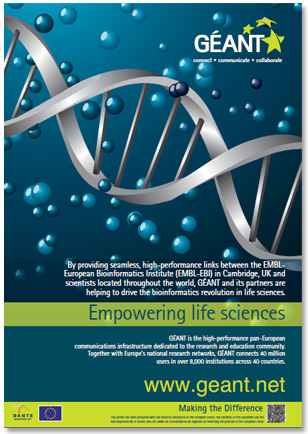 Operating at speeds of up to 5​00Gbps and reaching over 100 national networks worldwide, GÉANT remains the largest and most advanced research and education network in the world.
Co-funded by the European Commission under the EU's 7th Research and Development Framework Programme, GÉANT is a flagship e-Infrastructure key to achieving the European Research Area – a seamless and open European space for online research – and assuring world-leading connectivity between Europe and the rest of the world in support of global research collaborations.
The network and associated services comprise the GÉANT project (GN3plus), a collaborative effort comprising 40 partners: 37 European NRENs, DANTE, TERENA and NORDUnet (representing the 5 Nordic countries), and 30 Open Call project partners. GÉANT is operated by DANTE on behalf of Europe's NRENs.