​Enriching Education
Access to world-class teaching in thousands of subjects and areas of interest is transforming the lives and prospects of millions of students around the world. Traditionally students would need to physically attend universities and institutes of higher education. But now, students can enroll on courses, interact with tutors and fellow students, and access the learning resources they need regardless of their location – via secure access across high speed R&E networks.
The potential impact of this on the pace of learning and development is enormous. This change is benefiting the host institutions too, drastically enlarging their potential audience and offering opportunities for collaboration with partners across the world.
DANTE's projects help to interconnect thousands of educational establishments across the world, fostering learning, development and cultural exchange to the long term benefit of society and its citizens.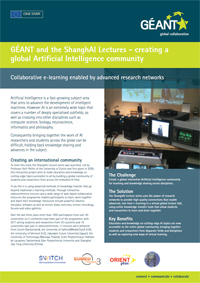 Global Artificial Intelligence is a fast-growing subject area that aims to advance the development of intelligent machines. It is an extremely wide topic, so bringing together the work of AI researchers and students across the globe is a challenge. The ShanghAI Lecture series uses research networks to provide the high quality connections required for real-time e-learning in a virtual global lecture hall. This has created a global interactive AI community for teaching and knowledge-sharing across different AI disciplines.
Click here for more details:
GÉANT and the ShanghAI Lectures