​EUMEDCONNECT3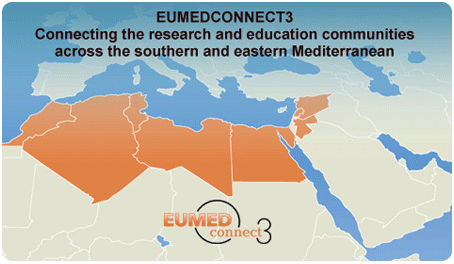 EUMEDCONNECT3 provides a high-capacity dedicated Internet for research and education (R&E) communities across the southern and eastern Mediterranean region. By accessing the network through their respective national research and education networks (NRENs), that are partners in the programme, scientists and academics are able to collaborate among each other and engage in innovative, data-intensive international projects. With its direct links to GÉANT, the pan-European R&E network, EUMEDCONNECT3 provides access to over 40 million users at over 8000 research and education establishments across Europe. Via GÉANT's connections to networks in other world regions, EUMEDCONNECT3 is a gateway for Mediterranean researchers to be truly global players.
Building on the success of its predecessor network, EUMEDCONNECT3 directly connects researchers in southern and eastern Mediterranean partner countries, initially Algeria, Egypt and Palestine. Further countries are expected to join including those that have participated in previous phases.
The success of the EUMEDCONNECT2 project led to the establishment of ASREN, the Arab States Research and Education Network, a Consortium that will take over network management and pro-actively pursue the extension of the backbone to other Arab states.
The European Commission is contributing over €3m towards the costs of EUMEDCONNECT3 from its regional European Neighbourhood and Partnership Instrument (ENPI South) budget towards EUMEDCONNECT3, with the remaining funds being provided by the Mediterranean partners. The project will run until 2014.