The Early Years
How a Cambridge not-for-profit is changing the face of global research
The story of DANTE begins in 1993 when Europe's National Research Networks grouped together to form a centralised, managed backbone for the European research community.
Dai Davies and Howard Davies (not related), joined as joint General Managers, and their collaboration proved that a unified hub for a European backbone, with long-term objectives and clear focus, could pave the way for a network boosting European innovation and economic development.
Since then, DANTE has helped drive the revolution in research and education networking. Today, with the world-leading GÉANT network considered a blueprint for networking excellence, DANTE continues to plan, build and operate large-scale networks all over the world.
DANTE's first General Managers tell us more…
      
Dai Davies, General Manager between 1993 and 2011
Howard Davies, DANTE General Manager between 1993 and 2001: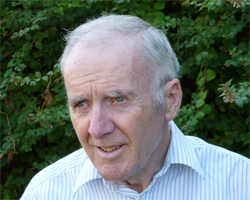 "Over the years, DANTE has demonstrated its effectiveness by showing how a small organisation can be more effective than a large one.  This agile and innovative environment has been the foundation of DANTE's success ever since.  
One particularly good example of this agility was in 1994. We were provisioning internet connectivity to the joint Inet'94/JENC Conference in Prague and the training course for engineers from the national networks during the previous week.  
CESnet had a 64 kbps connection to EuropaNet, funded by the European Commission's PHARE programme and operated by PTT Telecom, the Netherlands PNO.  With several hundred network-committed attendees, many of whom wanted to connect to sites in the US, it was not going to be adequate.
DANTE persuaded PTT Telecom to install a temporary upgrade of the EuropaNET connection to 512 kbps for the two weeks.  Traffic to and from the US would use one of DANTE's transatlantic circuits (already carrying a significant load), 
The perceived value of this upgrade was diminished as a result of a proposal from MCI to install a 2 Mbps link directly to the US, the link being constructed by joining a MCI transatlantic circuit to a BT London - Prague circuit in London.. 
With Vint Cerf as one of the principal conference organisers as well as a Vice-President of MCI, and with BT a part owner of MCI, what could possibly go wrong? 
What no-one noticed until it was too late was that the transatlantic and European portions of the planned Prague-US link ended in two different BT buildings in London. 
There was no connection in place between them and there was not enough time to install one. 
The DANTE-PTT Telecom service came to the rescue and supplied adequate support throughout the event.
As an aside, Jan Gruntorad, the Director of the Czech national network (CESnet) worked successfully to persuade the Czech Minister of Education to find the funds necessary to leave the "temporary" 512 kbps circuit in place after the conference. This represented a big breakthrough for the Central European countries in moving towards equality of provision with Western European research networks."