DANTE Director - Christian Grimm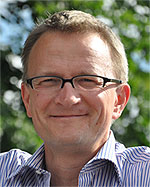 Christian Grimm is General Manager of DFN, the German National Research and Education Network (Deutsches Forschungsnetz). He joined DFN in 2009 and was appointed to his current position in 2011. Prior to DFN Christian was in the directorate of the Regional Computing Centre for Lower Saxony (RRZN), at that time the largest Tier 2 HPC Centre in Germany. At RRZN Christian held the position as head of research and development division. In parallel he was appointed Assistant Professor for Computer Networks at the Gottfried Wilhelm Leibniz Universität in Hanover.
Christian complemented his life in academia by several professional engagements with commercial companies. In the early days of the World Wide Web he worked for large German publishers to explore the potential of online media. Later he joined a start-up company being responsible for development and operations of a satellite based infrastructure to distribute IP data. That infrastructure was successfully overtaken by a large French satellite operator.
Christian holds a Diploma and a Doctoral Degree in Electrical Engineering and Information Technology. He also enjoyed three years of education as Information electronics technician teaching him how analogue life in IT can be.