​European Commission
The European Commission (EC) is a very important partner for DANTE. The Commission recognised that meeting the demanding requirements of the research and education community involves building networks whose capacity, reach and services are well in advance of those provided by commercial networks, and which are provided by organisations with an in-depth understanding of the requirements of research and education users.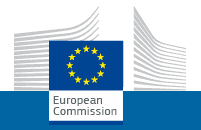 The EC has been a major supporter of the development of research networking in Europe and around the world, having co-funded successive generations of pan-European research networks. It has also jointly funded a number of studies and projects related to initiatives to provide research networking connectivity to, and within, other world regions. The EC recognises the contribution of research networking to European economic growth and competitiveness, via enhanced access for researchers to research facilities and resources, and an increased ability for researchers to participate in geographically distributed "virtual" research groups.
The GÉANT network, with its extensive connections to other research networks around the world, is seen by the European Commission as fundamental to realising the EU's goal of creating the European Research Area, and a key part of the Digital Agenda for Europe, a flagship initiative of the EU's Europe 2020 10-year growth strategy.
DANTE has a strong track record in making proposals for, and being awarded, grants from the funds of the European Commission. It is regarded very highly as a reliable and efficient manager of grant funded projects. Over the years, DANTE has applied for, and been granted, more than €300 million of EC grant funding. DANTE facilitates NREN cooperation with the European Commission, closely following NREN-relevant policy areas such as Horizon 2020, and interfacing with the European Commission to ensure policy development takes account of the expertise of the NREN community.